Raul Garcia Hemonnet
The project 'First genetic reserves of wild relatives of crops in Spain' has been recognized by the 'go!ODS' awards in its 2022 edition, organized by the United Nations Global Compact Spain and the Rafael del Pino Foundation. The initiative, promoted by the URJC, through the ESCET professor Jose María Iriondo, the UPM and the Community of Madrid, has been awarded for its work in compliance with SDG 2: 'Zero Hunger'. These awards recognize initiatives aimed at fulfilling the United Nations Sustainable Development Goals.
The work carried out consists of the location, documentation and conservation of selected populations and awareness of the importance of wild relatives of crops for food security in Spain in a context of climate change. "One of the effects is that agricultural production is compromised. Our agriculture is adapted to present climate conditions, but may become ill-adapted to future conditions. It may be that, for example, in a few decades, the current fields will not be suitable for producing certain crops, because they will become desertified. Faced with this possible situation, there are two alternatives: move them to areas with more favorable climatic situations or generate new plant varieties that adapt to the new conditions, not only to an increase in temperature but also to the arrival of new pests and diseases", José María Iriondo points out.
Genetic diversity is key
Modern agricultural varieties have little genetic diversity. However, this diversity is present in the wild relatives of crops. The wild relatives, explains Professor Iriondo "have a lot of genetic diversity and this can help our crops adapt to new conditions. We need to conserve these wild relatives. They live in nature, but as natural habitats are destroyed, their presence is reduced. The way to conserve it is by establishing genetic reserves with the diversity that we want to conserve and transmit to crops." To carry out this project, the researchers have collaborated with the Biosphere Reserve of the Sierra del Rincón, locating places where there were populations of interest of wild relatives, both on public and private property. "It is important to have the participation of citizens of the area, committed farmers and agents of all kinds so that local populations become aware of how to care for and preserve these wild relatives," says Iriondo.
In this sense, indicates the professor, the award, "is going to give us a lot of visibility at a social level and we think it is important in order to advance in the implementation of this strategy. We want to create a national network of genetic reserves that extends throughout Spain". The researchers plan to visit these places and check the status of the populations of wild relatives in the coming years, they have also collected seeds and taken them to the germplasm bank of the UPM, where they are preserved.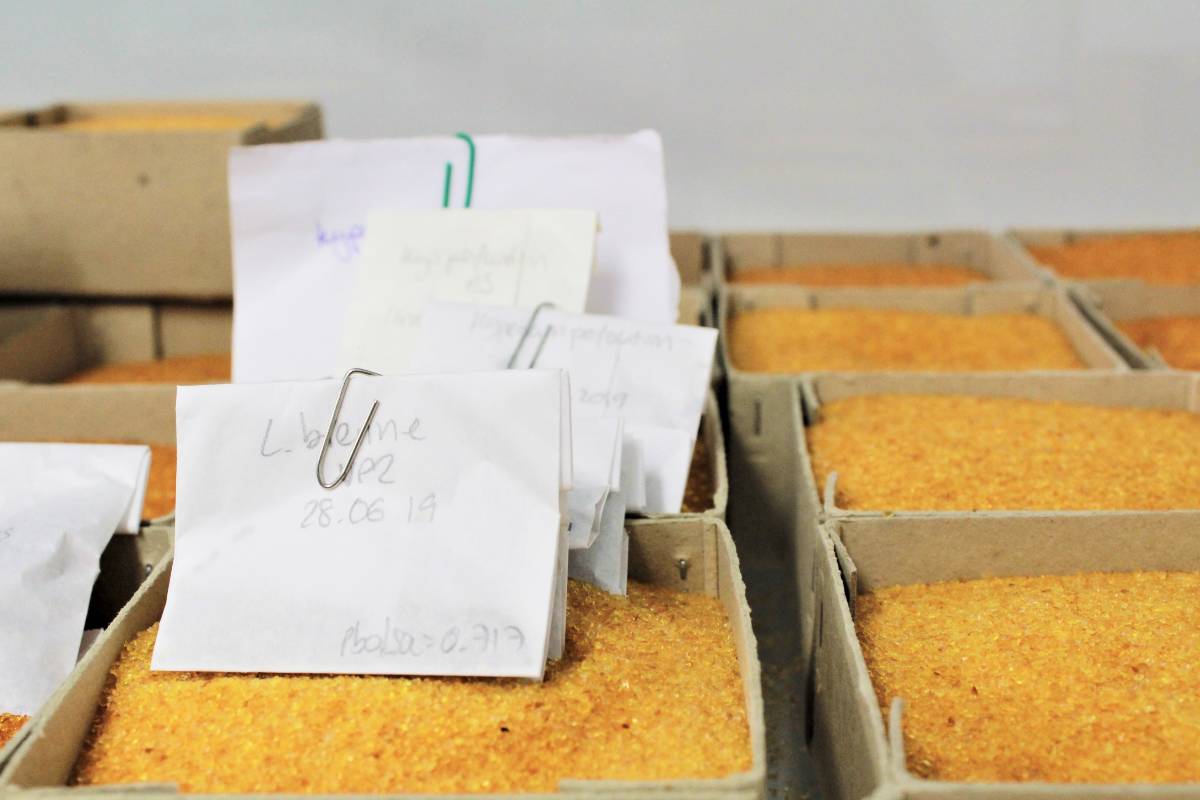 National Strategy
This award-winning project is part of an initiative of the Department of agriculture for the creation of a National Strategy for the Conservation and Use of Wild Relatives that has been prepared by a group led by the URJC. Furthermore, it has to do with the European project, 'Farmer's Pride', of the 'Horizon 2020' program, whose objective is to create a network of genetic reserves of wild relatives of traditional crops and varieties in Europe.
Cover Photo: Papaver rhoeas L. (PSC of opium poppy, Papaver somniferum L.) (Photo: A. Molina).
Photo 2: Drying of PSC seeds collected on silica gel as a pretreatment for their conservation in a germplasm bank (Photo: A. Molina).