Núria Ripoll
The 42 students selected for the International Volunteer Program for this course began their journey on November 2 and 3, with a training seminar held at the Faculty of Information Sciences of the Complutense University of Madrid. It highlighted the importance of international volunteering in achieving the Sustainable Development Goals and in the comprehensive training of university students beyond the classroom.
Of the six public universities in Madrid, the URJC has been the university with the most applicants, 36 initially. According to Cantalejo, "the Program allows for the participation of university students in international projects, encourages international voluntary action among university students, opens up professional projection to students in the field of volunteering and development cooperation, and promotes networking among international university volunteers.
The six students finally selected to fill the vacancies offered were Nerea Belmonte and Rosa María Márquez, who will collaborate in supporting the development of a media library at the Suchitoto Art Center for Peace in El Salvador; Joel Fernández Serra, who will work as a social mediator in the same center; Livia Sofía Cruz, who will provide support in attention to functional diversity in Tangier; Alba Gómez, who will collaborate in the Dr. Hugo Mendoza Pediatric Hospital in the Dominican Republic and Pablo González, who will provide support in the La Vega Regional Health Service, also in the Dominican Republic.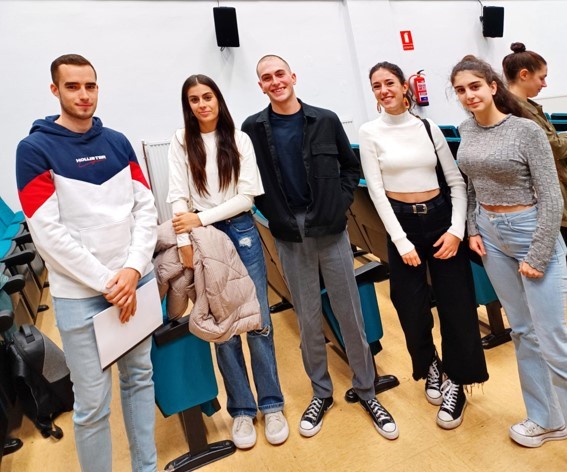 This training seminar brought together several talks and practical workshops given by professors and technical staff from the participating universities. On behalf of the URJC, Irene Cantalejo, head of University Social Responsibility, and Ana Martínez Pérez, professor of Sociology at the Faculty of Communication Sciences, spoke and offered the students advice on health prevention once they are working in the land.
According to Cantalejo, "the main thing is to make students aware that volunteering is a philosophy of life, consistent with the way of thinking and acting on a day-to-day basis." "Volunteering reinforces civic commitment, protects social inclusion and strengthens solidarity. It allows people and communities to participate in their own growth" he explains. "Without volunteers, it is not possible to achieve the Sustainable Development Goals without a great diversity of committed people at all stages, at all levels and at all times"
"They will encounter life experiences that are difficult to forget, they will enter diverse realities in the field that will enhance their feelings of solidarity, they will feel useful, they will create ties with their community, they will learn from the society that surrounds them, they will be more generous, and honest. for life" ends by explaining Cantalejo.