1. Prospective students
Welcome Day
Link to reception acts by degrees and double degrees.
Open Day
Within the URJC Pre-University Orientation Program, different activities are carried out so that students interested in studying one of its degrees can learn more about the facilities on its Campus, the services that the University makes available to its students, and other relevant information. Within these activities are the open days that this year will be held in person on May 13 and 20 from 17:19 p.m. to XNUMX:XNUMX p.m.
To know information about the sessions in each one of the campuses you can click here!.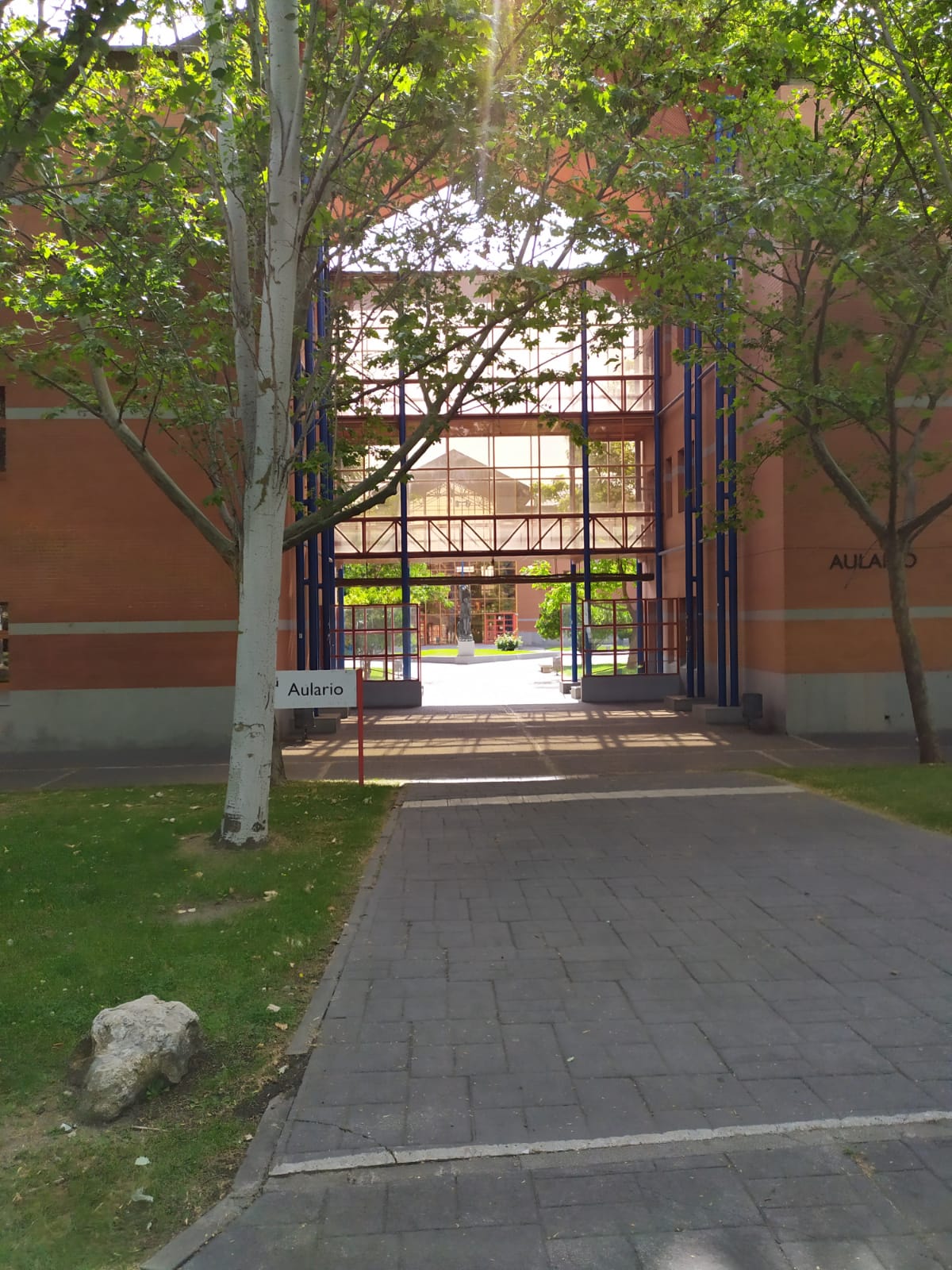 Visits to the Campuses are also organized, again this year in online format. The days of these visits are the last Friday of each month.
Learn More
Pre-University Orientation Guide
Videos of the Faculty of Legal and Social Sciences (Pending)
Virtual tour of the Vicálvaro Campus
Virtual tour of the Aranjuez Campus
Virtual tour of the Fuenlabrada Campus
Virtual tour of the Móstoles Campus
Virtual tour of the Alcorcón Campus
2. GFR
Call for acts of defense of TFG. ACADEMIC YEAR 2022/2023
---
---
Style rules for carrying out the TFG (May 2022)
Template with the format of TFG in Word
Template with the format of TFG in Open Document Format
3. Graduation ceremonies
The graduation ceremonies for the 21/22 academic year will be held in person on the dates indicated below. Detailed information with all degrees and double degrees is available in this link.
IMPORTANT: Maximum number of companions 3 people.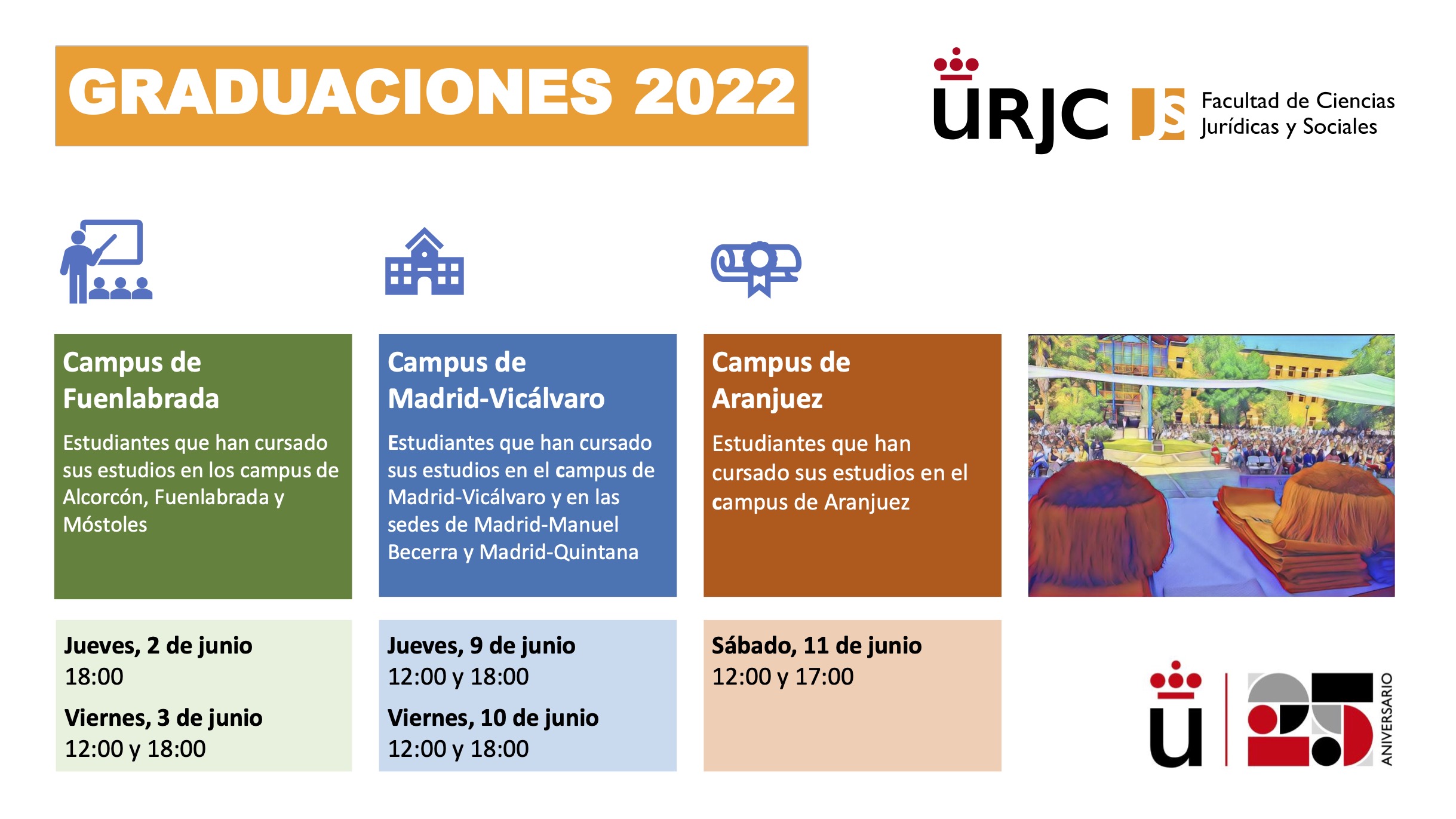 4. Review and complaint of continuous evaluation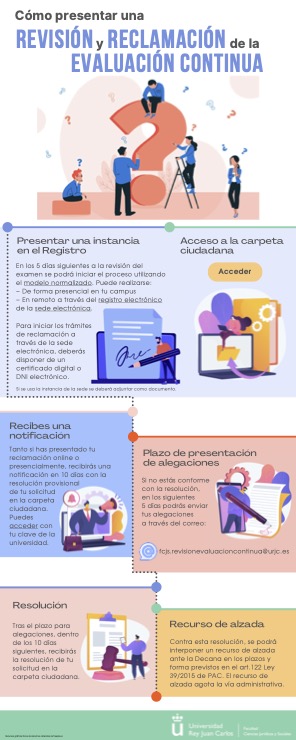 5. Foreign title homologation tests
6. Practices/RAC
RAC
RAC Frequently Asked Questions
The deadlines to request recognition of the activities carried out during the 2020-2021 academic year are:
· First period: from September 14 to October 16, 2020
· Second period: from December 14, 2020 to January 18, 2021 (the deadline for submitting documentation is extended until January 19, 2021, due to maintenance work on the platform)
· Third period: from March 15, 2021 to May 17, 2021
RAC CREDITS APPLICATION DOCUMENTS FOR ACTIVITIES
Form (updated December 2020)
Instructions(updated December 2020)
EXTERNAL INTERNSHIPS
Application of External Practices
Covid-19 External Internship Evaluation Procedure
7. modern language
Covid-19 Modern Language Assessment Procedure
8. Elections delegates
Group delegate election information
9. Degree delegate elections
Guidelines for the development of the elections of degree delegates
Model for the presentation of the candidacy for degree delegate
Calendar of the elections to degree delegates
10. Compensation Courts
Application submission deadlines (June 2022)
11. Scholarships
12. Degree delegates
| | | |
| --- | --- | --- |
| | HEADS UP, ANGEL | DEGREE IN BUSINESS ADMINISTRATION AND MANAGEMENT (MOSTOLES) |
| | DE MARTIIS, GIADA | DEGREE IN FINE ARTS (FUENLABRADA) |
| | GARCIA CASTANEDO, JORGE | DEGREE IN SCIENCE, MANAGEMENT AND ENGINEERING. OF SEMIPRESENTIAL SERVICES (VICALVARO) |
| | THE HADAD, NAJOUA | DEGREE IN POLITICAL SCIENCE AND PUBLIC MANAGEMENT (VICALVARO). AND SUB-DELEGATE OF THE FACULTY. |
| | ROCA GOMEZ, MARIA DOLORES | DEGREE IN SCIENCE OF PHYSICAL ACTIVITY AND SPORTS (ALCORCON) |
| | RED HARO, GEM | BACHELOR'S DEGREE IN ACCOUNTING AND FINANCE (FUENLABRADA) |
| | MARTINEZ CABALLERO, LAURA | DEGREE IN CRIMINOLOGY (ARANJUEZ) |
| | LUELMO ALONSO, DIEGO | DEGREE IN LAW (FUENLABRADA). Y FACULTY DELEGATE |
| | CHICHON SANZ, PAULA | DEGREE IN ADDRESS AND MANAGEMENT OF COMPANIES IN THE DIGITAL FIELD (VICALVARO) |
| | CANEDO ALVAREZ, THIAGO AUGUSTO | DEGREE IN FASHION DESIGN AND MANAGEMENT (ARANJUEZ) |
| | MARTIN OLMOS, IVAN | BACHELOR'S DEGREE IN FINANCIAL AND ACTUARIAL ECONOMICS (MOSTOLES) |
| | SANCHO CASILLAS, VIOLET | DEGREE IN ECONOMICS (MOSTOLES) |
| | CASTLE DIAZ, PAUL | BACHELOR'S DEGREE IN EARLY CHILDHOOD EDUCATION (ENGLISH) (VICALVARO) |
| | GARCIA ALVAREZ, DELIA | DEGREE IN PRIMARY EDUCATION AND PRIMARY ED MENTION (MOSTOLES) |
| | ROUND JIMENEZ, PABLO | DEGREE IN PHILOSOPHY (FUENLABRADA) |
| | SANCHEZ SANCHEZ, LLERENA | DEGREE IN FUNDAMENTALS OF ARCHITECTURE (FUENLABRADA) |
| | BY ANDRES MARTINEZ, MIGUEL | DEGREE IN HISTORY (FUENLABRADA) |
| | MORENO GOLVANO, LAURA | BACHELOR'S DEGREE IN SPANISH SIGN LANGUAGE AND THE DEAF COMMUNITY (ALCORCON) |
| | MUÑOZ PEREZ, SAMUEL | DEGREE IN SPANISH LANGUAGE AND LITERATURE (FUENLABRADA) |
| | OF THE WELL DUQUE, RODRIGO | DEGREE IN MARKETING (VICALVARO) |
| | VIEIRA VALLVE, JANELLA | DEGREE IN PROTOCOL, ORGAN. OF EVENT AND CORPORATE COMMUNICATION (ENGLISH) (MADRID) |
| | NUÑEZ MARTINEZ, ANGEL | DEGREE IN INTERNATIONAL RELATIONS (FUENLABRADA) |
| | TAT CHIRINOS, MARIA CRISTINA | BACHELOR'S DEGREE IN LABOR RELATIONS AND HUMAN RESOURCES (VICALVARO) |
| | MIÑAMBRES LOPEZ, ANGELA | DEGREE IN SOCIAL WORK (ALCORCON) |
| | PORTILLO RODRIGUEZ, LARK BELEN | DEGREE IN TRANSLATION AND INTERPRETATION (ARANJUEZ) |
| | ROOMS VAREZ, IVAN | DEGREE IN TOURISM (VICALVARO) |
13. Associations
ACIP, Association for Intellectual and Political Growth:
· Twitter: @acip_urjc
· Instagram: @acip.association
ADHUE, Association for Humanitarian and Student Development of the URJC:
· Instagram: @instadhue
· Twitter: @ADHUAsociacion
· Website: www.adhueasociacion.com
ASESP, the Student Association of Parliamentary Simulations:
· website is www.asespasociacion.com
· Instagram: @asesp_association https://www.instagram.com/asesp_asociacion/
· Twitter: @ASESPasociacion https://twitter.com/ASESPasociacion
· Facebook: @ASESPassociacion https://www.facebook.com/ASESPasociacion
Debate club:
• Instagram: @debate_urjc
· Website: www.clubdebateurjc.com
· Facebook: King Juan Carlos University Debate Club.
IURIS:
IURIS URJC is an association founded by law students born with the idea of ​​helping future lawyers and professionals from other sciences related to the legal sector to implement the knowledge acquired in the classroom.
We conceive of learning as a modus vivendi Therefore, we try to bring students closer to the practical reality of the subjects taught at the University, through training activities that increase their professional and personal development.
To get to know us in depth, you can contact us through the following means:
· Contact phone number: 601 61 81 39
· Instagram and Twitter: iuris_urjc
· Facebook: AsocIURISURJC
· LinkedIn: iuris-urjc
· Our web: https://iurisurjc.com/unete/
We are waiting for you!
URJC Public Res:
• Twitter: @ResPublicaURJC
• Instagram: @respublicaurjc
Association Thirteen:
· Twitter: @trece_aranjuez https://twitter.com/trece_aranjuez
· Instagram: @trece_aranjuez https://www.instagram.com/trece_aranjuez/?hl=es
UEPA Association, Union of Students for Aranjuez:
• Twitter: @uepa_Aranjuez
• Instagram: @ueparanjuez
UNION Campus:
• Instagram: @unioncampus
• Twitter: @unioncampus