Raúl García Hémonnet/Editor
In 1981, the First Latin American and Caribbean Feminist Meeting set this day to raise awareness and awareness about violence against women, in commemoration of three Dominican activists. Patricia, Minerva and María Teresa Mirabal were brutally murdered on November 25, 1960 under the dictatorship of Rafael Trujillo Molina. Later, in 1993, the General Assembly of the United Nations Organization (UN) officially declared this date as the international day against gender violence, and issued for the first time the Declaration on the elimination of violence against women. .
On the occasion of this day, the URJC joins this fight and adheres to the manifestos that have been published by both the Network of Gender Equality Units for University Excellence (RUIGEU) as CRUE Spanish Universities.
Success in the days 25 N
To prepare for this day, the URJC Equality Unit has held a series of events under the name 'Jornadas 25N22', which have taken place throughout the month of November. From this unit they want to highlight "the success of assistance that the days 25N22 that have dealt with, among other issues, chemical submission and have had the testimony of women survivors of gender violence and have delved into the detection, prevention and treatment of harassment situations".
These conferences live their last session today, with a visit to the Móstoles Campus of the IES Carpe Diem in Fuenlabrada, where the students will participate in a talk within the framework of the literary project "Pozos de Pasión" that will deal with gender, the environment and reproductive health and sexual from the perspective of the SDGs.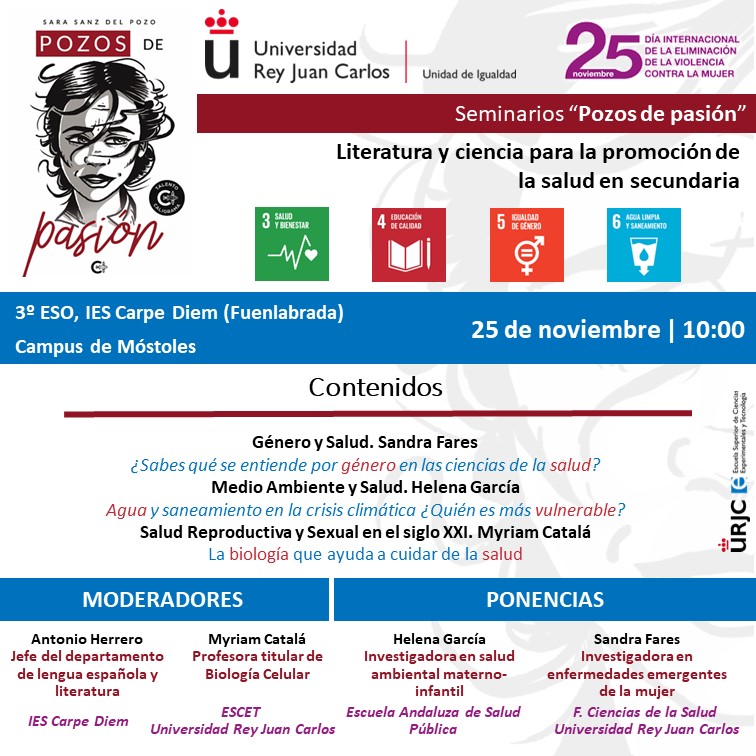 From the Equality Unit, they state that they want to "show again, the commitment of our university in the fight against gender violence, which has been reflected in the recently approved II Equality Plan of the URJC. Axis 9 of this plan has the general objective of promoting that the Rey Juan Carlos University is an organization free of Gender Violence and that staff and students know the procedures and measures to ensure the rights of victims.