Nora Fernandez Fernandez
On the occasion of the celebration of Pride Day, the Rey Juan Carlos University and the Autonomous University of Madrid (UAM) are the hosts of the II Meeting of the Network of Universities for Diversity.
Yesterday, the UAM hosted the conference 'Sexual and gender diversity policies, by origin, culture, belief and related' to address the policies and legislative frameworks of the Organic Law of the University System, the Law for real equality and effective treatment of trans people and for the guarantee of the rights of LGTBI people and the Comprehensive Law for Equal Treatment and Non-Discrimination, among others. In addition, it has been presented RUD Pride Manifesto 2023.
Today, Tuesday June 27, the place where the meeting takes place is the headquarters of Manuel Becerra, of the URJC.
The first act is led by LGTBI associations and entities such as FELGTBI, PRISMA, Maricorners and Euforia. Next, Markus González, undersecretary for Universities, and Silvia Rueda Pascual, cabinet adviser at the Ministry of Science and Innovation and director of the Women and Science Unit shared a conversation with RUD spokespersons.
As Miguel Ángel López, director of the URJC Diversity Unit, tells us, "today is the institutional day where we will share the work done by the RUD, establish synergies with entities, resolve doubts with institutions and explain our demands as member universities. ".
In addition, López wanted to point out that, since the activity of the universities is focused on research, teaching and transfer, "we must promote knowledge of the reality of LGTBIQA+ people, people of color and people with functional diversity and cognitive". For this reason, he adds, "it is very important to promote quality research on diversity and the inclusion of these values ​​in the training offer in a transversal way, emphasizing the fight against lgtbiphobia, racism, antigypsyism and ableism, to through awareness, detection and intervention campaigns". As part of these campaigns, the RUD has presented the following video: https://www.youtube.com/watch?v=WnxfdDtTuqg
The meeting was closed by the vice-rector for Quality and Strategy of the Rey Juan Carlos University, Andrés Martínez. In his speech, he pointed out "the honor of being co-hosts of this II Meeting of the Network of Universities for Diversity; a network that is the exponent of a heterogeneous university system and proud of its community and the society to which it belongs".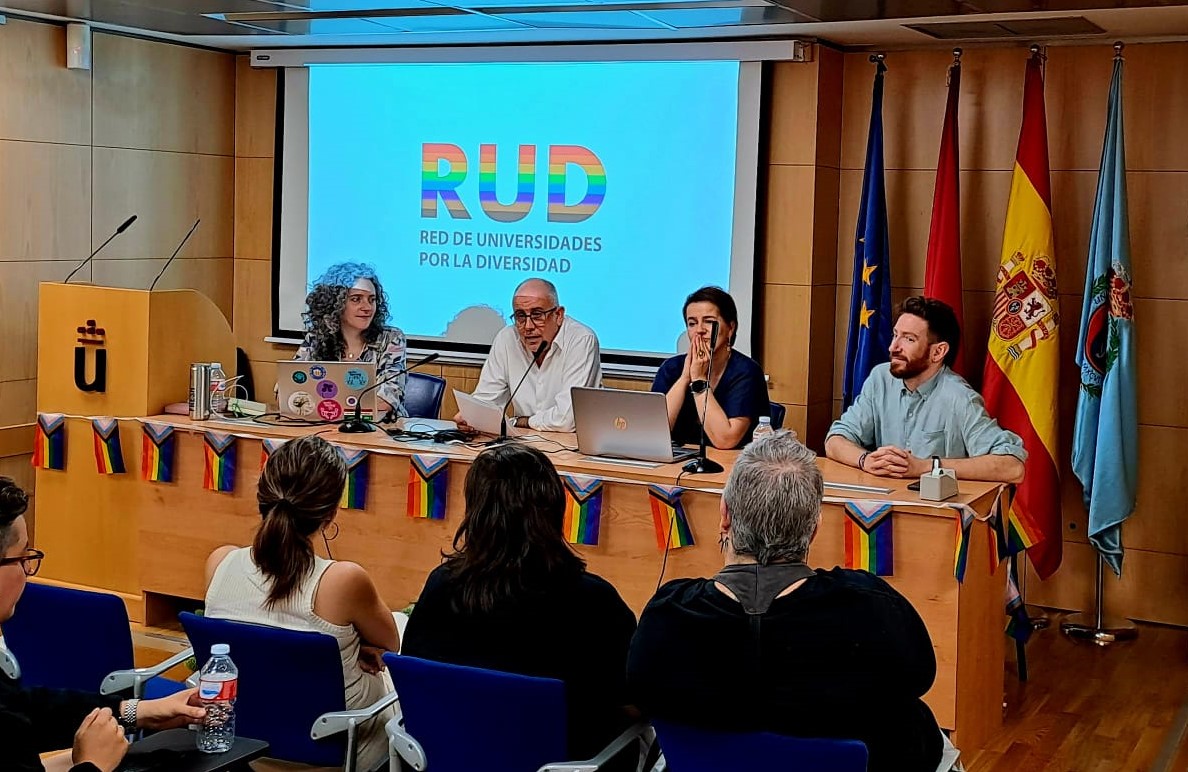 For this reason, another of the acts with which the URJC has shown its support for diversity and the promotion of these values ​​is the raising of the pride flag at the entrance to the Fuenlabrada campus.
From Campus Management, they have wanted to join with this symbolic gesture to create a more open, respectful and diverse university, where everyone has the right to live in peace and equality. Tomorrow, the official day of LGTBIQA+ Pride, the flag will also be hung on the Alcorcón campus, on the URJC website and social networks.