rose marquez
Teresa Perales is an example of improvement. At the age of 19, she lost the mobility of her legs due to neuropathy, but far from giving up, she learned adapted swimming and began training to compete. Since then she has won 27 Paralympic medals and has broken ten world records. "When in 1995 they told me that I was not going to walk again, I did not imagine that the path that I was going to travel with my wheelchair would take me so far. That's why I always say that your dreams are your greatest treasure and it's up to you to feed them." Perales, godmother of honor of this edition of the Summer Courses and in charge of the opening lesson, spoke about going through the university: "I studied physiotherapy and I was very good at it. When I finished, I was proud, convinced that I would find a job quickly, but I remember that I went to the Public Employment Service and was greeted by a lady who, as soon as she saw me, asked me how much percentage of disability I had and what she couldn't do. It was a hard blow at a young age because until then I had not thought about my limitations. Just like it happened to me, many students at this university will also meet people who don't know how to see their abilities and, due to their lack of experience, will doubt themselves. Luckily I had teachers who believed in me and that has helped me achieve everything I have set out to do in life. Today I am clear that what defines me is my will, not my wheelchair".
Along with Perales, was the vice-chancellor, Mercedes del Hoyo, who recalled that studying and working at the university is a privilege: "We say it as a cliché, but we should repeat it every day because privilege is often a matter of chance, a coin one-sided, that of benefits. However, there is another face that should be engraved on fire, that of responsibility. Our mission is to return part of those benefits to society." Del Hoyo took advantage of her intervention to thank the directors of the summer courses for her work. "Many are repeat offenders and I'm sure some have thought "this is the last time I get into a mess like this", but they have been encouraged to continue submitting proposals and hopefully next year they want to continue participating."
The rector, Javier Ramos, also had a few words of gratitude for the entire team in charge of organizing the courses, especially for its director, Cristina del Prado, in charge of coordinating an edition that, he assures, is more demanding and close to today than ever. "The university cannot be a time capsule, hermetic to what happens around it. We keep and transmit knowledge, but we have to allow the entry of new ideas and stimulate critical thinking", she reflected during his speech.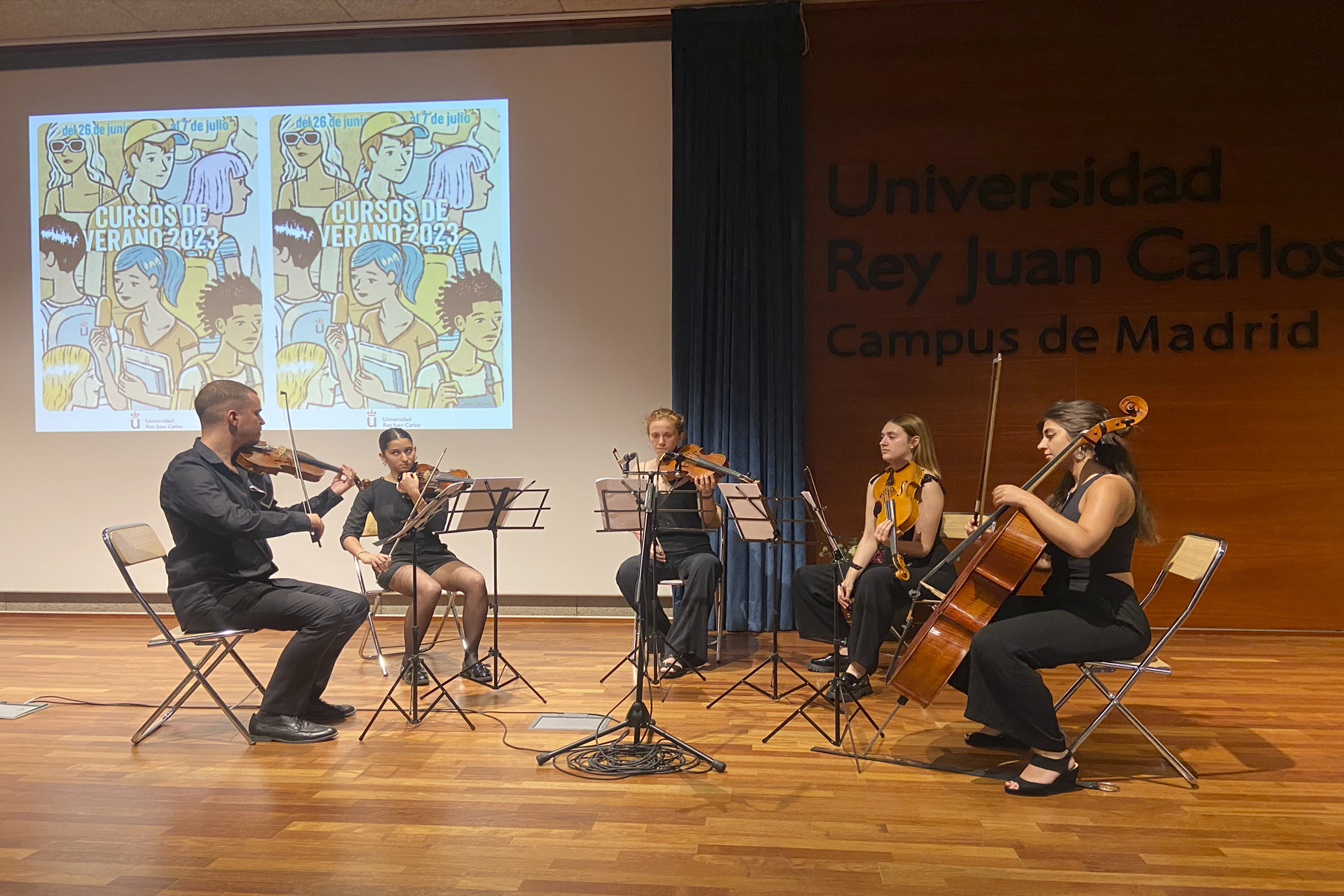 The event ended with a performance by the URJC Chamber Ensemble, which performed four songs by a string quintet made up entirely of university students and directed by Gemma Camps. After the gala, attendees were able to enjoy a Spanish wine in the campus gardens.